Editor
Is Downsizing Your Home in Your Future?
Updated: Feb 5, 2019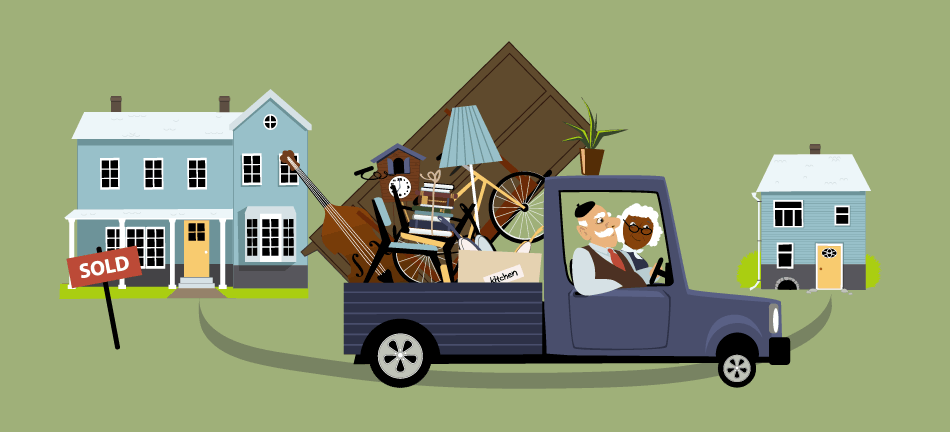 A typical scenario is that you have been in your home for years, raised your family
and now you're feeling that it's time to take a rest and get a smaller place to cut
your overhead costs and not have to clean so many rooms.
The only thing holding you back from making the move is likely the emotional
attachment and the memories made in your familiar surroundings. Sometimes it's
difficult to realize that you must leave that behind to move on and make new
memories. Remember, memories are with you forever and change is really a
good thing...a new beginning.
_________________________________________________________________________
The downside to "downsizing" usually means not only leaving your home and the memories, but a familiar neighborhood, and old friends. Also, de-cluttering the many things we accumulate that are also attached to our memories. But the upside might be re-discovering things you've been missing for years!
STEP #1: Home & Lifestyle Considerations & Criteria
Ask yourself the following questions to determine what your needs are for a smaller home:
Do you need a creative space?

Do you want the security of a hi-rise with all the extra amenities?

Do you intend to travel for extended periods of time?

Do you need space for hosting parties and get togethers?

Do you need a guest room for visitors or grandchildren?

Do you need to be close to public transportation, shopping or a golf course?

Most important, what is your budget for monthly living expenses?
STEP #2: Finding a New Home to Meet Your Needs
Make it easy on yourself, work with an experienced real estate agent who knows the area you want to move to and can take you to specific properties that meet your criteria. This saves you the stress of looking on your own and frees up the time for you to do the preparing for the move.
Know the square footage you need to accommodate your current furniture, or be prepared to eliminate some pieces, or downsizing from a king size bed to a queen. If no one you know is interested in your furniture, take pictures and post them on Craigslist or on a bulletin board in a local college for students living off campus. If your items are in reasonably good condition, you will not have a problem selling them.
STEP #3: How to approach a downsizing move?
Go through every cabinet, draw and closet and make groupings of the things you want to take, donate, sell or throw away.
Once you have completed this task, you can concentrate on the things you want to take and then decide what you really need and what you can discard, sell or pass on to your family, especially family mementos. This will leave you with what you will pack to take with you.
Pack your boxes and label them by room to make it easy for you to unpack.
Ideally, book the movers at least 2 months in advance. If you're not sure about what company to use, ask friends or relatives for referrals.
Also, check if your household insurance covers damages to your property that may be caused by the move.
This process may be an emotional and stressful experience, but in the end, you'll be satisfied with your new journey.